Club DSM Southwest
Project 4G64
---
There are two goals of project 4G64. The first is to take a 2.4L (non-turbo) 4G64 engine block and combine it with a 4G63 (turbo) head. The result, a 2.4L turbo charged DSM! This is 20% more displacement than the stock 2.0L 4G63 block. The theory is that this this conversion is that simple - putting a 4G63 head on a 4G64 block with custom pistons. While I'm at it, I'm also going to upgrade the A/T with a shift kit and end clutch to give the transmission firmer shifting and more durability to handle all the power we'll be making. I'm also going to do as many mods and improvements that are "easy" to do while the engine is out, and many basic mods such as gauges, intake, and BOV. The second goal of Project 4G64 is to perform the 97+ Eclipse conversion on the body of a 95 Eagle Talon Tsi AWD A/T. This entails replacing the front and rear bumpers, headlights, and taillights.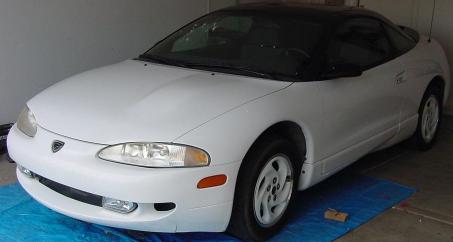 The goal of this page is to document the entire process of the project including costs, vendors, and parts lists to provide guidance to anyone else who wants to do this. I'll try to be thorough and document all the little things that seem to crop up in big projects like this.
---
Detailed Plan:
Purchase 4G64 long block from local junk yard. Strip it and take block to machine shop and have them order and install custom pistons and rods and fill oil holes. Also have machine shop port all intake manifold, exhaust manifold, O2 sensor housing, and whatever else makes sense. Sell leftover 4G64 engine parts on Ebay.
Purchase 1G 4G63 DOHC head, have it rebuilt and take it to machine shop to be installed on block.
Purchase 1G intake manifold, throttle body, and other parts as mentioned on http://www.roadraceengineering.com/1g2gheadswaptechtip.htm, and have machine shop modify 1G head for CAS.
Purchase and install instrument console bezel, boost gauge, EGT gauge, and boost controller.
Powder coat valve cover, jet hot coat (or similar) the exhaust manifold, heat shield and misc. other parts.
Journal
6-17-02: Purchased basic tools and supplies to get going including jack stands and an engine stand.
6-20-02: Located a used 4G64 engine in town. Went to Mitsubishi dealer to order parts.
6-22-02: Rented a truck to pickup engine and engine hoist, and stripped used engine down to the block.
6-24-02: Visited Frontier Machine Shop to drop off block and order custom pistons and rods. Unofficial estimate is about one month to receive the custom parts.
7-14-02: Bought 1G (manual tranny) cams from a person on DSMTrader.com
7-20-02: Purchased a 95 Tsi AWD A/T that I've chosen to put the new engine into.
7-27-02: Performed most pre-removal steps as described in shop manual for engine removal. Removed hood, drained oil, coolant, and tranny fluid, removed radiator, intake and hoses, and under covers. No problems yet.
7-28-02: Removed more items, canister, most sensors and hoses. Mess is getting bigger. Parts everywhere. Plan is to remove engine without removing tranny.
8-5-02: Translab shift kit and Alto end clutch ordered from AT DSM Member.
8-9-02: Bought 1G head on DSMTrader. Ordered upper gasket kit to rebuild head with.
8-10-02: Decided to remove transmission also to make life easier. Also plan is to install shift kit and upgraded end clutch while tranny is out (although these can be installed without removing tranny). Having difficulty removing some bolts with hand tools. Decided to purchase air compressor and air tools to help.
8-11-02: Still having a hell of a time removing lower lateral arm on passenger side - can't get impact wrench square on the bolt. Only thing left is removing drive shafts from transmission and removing a/c compressor.
8-18-02 With the help of Mike Hanna, the engine is now removed! Crankshaft pulley and vehicle speed sensor damaged in the process.
8-25-02: Removed transmission from car completely, disassembled block completely. Bought Boost and EGT gauges.
8-26-02: Ordered parts for 1G head swap from dealer, and bought others from posters on DSMTrader.com.
9-1-02: Started installing gauges, detailing engine bay, Mike H brought by the parts he ported for me. Still waiting on parts to get that head rebuilt.
11-12-02: Finally got the engine! Frontier did the valve job and assembled the entire long block. Since the last update I've been doing minor work on the car. I ordered new axles from Raxles nad I wired the car for the new audio system and installed all of the gauges.
11-17-02: Thought I was going to get it installed but there was a day's worth of work just getting the short block in shape.
12-1-02: First attempt to install. Found torque converter would not mount up to engine because the crank hole is much shallower on the 4G64 crank. Need to get TC machined down a bit (see pictures).
12-15-02: Engine is installed on second attempt! Most items are hooked up, still waiting on a few minor parts. We should have it running in a few days now.
12-26-02: The complete setup is installed and ready to go. Cranks and starts on first attempt! No CEL! But oil is leaking like crazy. Inspection reveals a couple minor engine oil leaks, and a huge tranny oil leak. Looks like the plug for the tranny didn't hold. Out it comes! Didn't really get to drive it. It didn't move very well because of what I did to the TC.
1-18-03: Finally got a chance to pull the tranny. Machining and plugging the torque converter was a bad idea. That space is needed for a shaft to operate. Going to explore options for a performance or replacement TC!
1-26-03: I have decided on a Pro Torque TC. I have to send them my old one, they will upgrade it and fix what I did to it and send it back. It will be a few weeks.
11-26-06: UPDATE!!!! The reason why I let this page essentially die is that I have been plagued with problem after problem, and most of it started with the machine shop that I assembled and did the long block. DO NOT USE Frontier Machine Shop in Phoenix, AZ. I have encountered nothing but problems and have since had everything re-worked, but is seems that bad luck is plaguing this car. I DO NOT think it has anything to do with what I've done, just pure bad lack. I don't have journal entries, but since the last entry I've added an FMIC, DSM Link, different turbo, new fuel pump, and probably more. I think this thing is fully modded now. I'm not ready to sell it... yet... but I'm getting close!
Notes
I ended up with a 9.1:1 compression ratio with my setup.
The J&E Pistons are part number 201673 with a bore of 3.415, clearance of .0040, invdome depth of .245, comp dist of 1.385, and the pistons mass 344 grams. These figures are from the spec sheet I was given.
Frontier Machine shop will turn around heads and long blocks in just a few weeks. The reason it took so long on mine is I had them do a lot of custom stuff for the 1G head swap and there was a 6 week or more wait time for the custom pistons.
1G Head Swap issues not mentioned in RRE instructions:
Plan to extend 3 wires going to coil pack because of 1G location vs. 2G location.

You'll have to find a place to mount the 1G Transistor if you don't want to extend all of those wires.

There's a bracket with a bunch of small vacuum lines on the back of the 2G intake manifold/throttle body that will not mount to the 1G setup.

I fabricated a bracket to hold the 1G intake manifold, I do not know if the 1G bracket would have worked. Be sure to acquire the bracket with the manifold, I think it will work.

If I remember right, you'll have to grind a bit of the intake or engine mounting bracket to get the rear engine mounting bracket to mount up nicely.

You'll have to plug one of the large holes and one of the small holes on the 1G water neck. I used old sensors from the Galant engine I bought.

You will need the threaded nipple on the rear of the water neck to connect the water line going to the heater.
When pulling and installing the engine, it's easiest to do it with both the engine and tranny together.
The bushing inside of the crank is replaceable. It's hard to get out, but it must be done. Then your tranny will just bolt right into place.
Expenses & Parts
Part

Vendor

Part Number

List Price (each)

Total Cost

Optional Cost

Recoverable Cost

TOOLS/Misc.

1000# Engine Stand

Harbor Freight

N/A

49.99

-

49.99

40.00

2Ton Foldable Shop Hoist

Harbor Freight

N/A

169.99

-

169.99

160.00

Load Balancer
Harbor Freight
N/A
39.99
-
39.99
30.00

6Ton Jack Stands (pr)

Harbor Freight

N/A

17.00

-

17.00

-

Tarp 8x10 (x2)

Harbor Freight

N/A

2.99

-

5.98

-
4 - 4" 10M 1.25 Pitch Bolts for holding engine on stand
Ace Hardware
N/A
1.89
-
7.56
-
ENGINE

Used 4G64 Engine, includes $25 core charge

Arizona Auto Parts, Phx, AZ

N/A

465.00

465.00

-

200.00

Camshaft Sprocket #1 for 1994 Galant DOHC engine

Mark Mitsubishi

MD189399

28.36

22.69

-
-

Camshaft Sprocket #2 for 1994 Galant DOHC engine

Mark Mitsubishi

MD300439

30.10

24.08

-
-

Timing Belt for 1994 Galant DOHC engine

Mark Mitsubishi

MD182292

88.43

70.74

-
-

4G64 Head Gasket

Mark Mitsubishi

MD189436

44.75

35.80

-
-

Valve (Rocker) Cover Gasket

Mark Mitsubishi

MD186784

31.61

25.29

-
-

Half Moon

Mark Mitsubishi

MD050536

4.42

3.54

-
-

Spark Plug Gasket (4)

Mark Mitsubishi

MD186785

6.99

22.36

-
-
Eng Overhaul Gasket Kit, Upgraded to metal Head Gasket1
Conicelli Mitsu
MD974635
231.36
173.52
-
-
Oil Pump2
Frontier Machine
?
316.66
316.66
-
-
Gasket Set (Lower End)
Frontier Machine
NA
71.50
71.50
-
-
Rod Bearing Set
Frontier Machine
NA
38.88
38.88
-
-
Main Bearing Set
Frontier Machine
NA
97.88
97.88
-
-
Total Seal Custom Gapless Ring Set
Frontier Machine
NA
186.80
186.80
-
-
JE Custom Piston Set
Frontier Machine
JE 201673
631.00
631.00
-
-
Eagle H Beam Connecting Rod Set
Frontier Machine
NA
410.00
410.00
-
-
Disassemble Short Block
Frontier Machine
NA
60.00
-
60.00
-
Vat Cast Iron Block
Frontier Machine
NA
55.79
55.79
-
-
Grind Crankshaft
Frontier Machine
NA
87.17
-
87.17
-
Bore and Hone each Cylinder
Frontier Machine
NA
17.42
69.68
-
-
Square Deck Block x4
Frontier Machine
NA
22.74
90.96
-
-
Modify (block) Oil/Cooling Passages
Frontier Machine
NA
75.00
75.00
-
-
File Fit Ring
Frontier Machine
NA
40.00
40.00
-
-
Assemble Long Block and misc parts
Frontier Machine
NA
578.93
578.93
-
-
Intake Valves (8)
Conicelli Mitsu
MD127840
22.78
-
136.72
-
Exhaust Valves (8)
Conicelli Mitsu
MD127841
16.48
-
98.88
-
Mitsu Liquid Gasket (Oil Pan)
Conicelli Mitsu
MD970389
38.17
28.63
-
-
Balancer Belt
Conicelli Mitsu
MR984778
28.10
21.08
-
-
Balancer Tensioner
Conicelli Mitsu
MD352473
37.13
27.85
-
-
Timing Belt Pulley
Conicelli Mitsu
MD182537
26.45
19.84
-
-
Idler Pulley
Conicelli Mitsu
MD156604
32.77
24.58
-
-
Water Pump Kit
Conicelli Mitsu
MD972050
121.07
90.80
-
-
Timing Belt Tensioner
Conicelli Mitsu
MD308587
81.43
61.07
-
-
P/S Belt
Conicelli Mitsu
MD310617
7.88
5.91
-
-
A/C Belt
Conicelli Mitsu
MB568898
23.17
17.38
-
-
Alternator Belt
Conicelli Mitsu
MD186125
14.17
10.63
-
-
Oil (5qts)
Checker
NA
1.25
6.25
-
-
Oil Filter
MitsubishiParts.cc
M/D325714
6.33
4.38
-
-
Vehicle Speed Sensor5
Conicelli Mitsu
MD756606
59.75
-
44.81
-
Diamond Star ATF (8 qts)
Mark Mitsubishi
ACH1ZC1X05
4.27
-
34.16
-
Valve Job
Frontier
NA
368.19
368.19
-
-
Replace Aluminum Guides
Frontier
NA
6.29
75.48
-
-
Mill Head
Frontier
NA
41.84
41.84
-
-
Pressure Test Head
Frontier
NA
41.84
-
41.84
-
Install Valve Seat (1)
Frontier
NA
21.62
-
21.62
-
Vat Misc Parts
Frontier
NA
50.00
-
50.00
-
Valve Guides (12)
Frontier
NA
3.83
-
45.96
-
Valve Seats (1)
Frontier
NA
13.92
-
13.92
-
Crankshaft Blade
Mark Mitsubishi
MD187953
44.87
-
32.61
-
*
*
UPGRADES
Instrument Guage Bezel
Buscher Racing
90280-AUT
69.00
-
69.00
-
Boost Gauge
Loper's (Phoenix)
Autometer 3304
47.95
-
47.95
-
EGT Gauge & Probe
Loper's
Autometer 3344
124.95
-
124.95
-
Manual Boost Controller4
Ebay Auction
N/A
24.95
-
24.95
-
EVO O2 Housing3
Conicelli Mitsu
EVOO2
165.16
-
123.87
-
EVO O2 Housing Gasket
Conicelli Mitsu
EVOO2GSKT
5.92
-
4.44
-
Jet Hot 2000 Exh Manifold
Jet Hot
EM4C
120.00
-
120.00
-
Dejon Tool Intake and IC pipes
Dejon Tool
Various
389.85
-
389.85
-
Weld fitting for EGT gauge
Frontier
NA
30.00
-
30.00
-
New axles, L&R
Raxles.com
C155L/R
590.00
-
294.75
-
Dejon Tool 1G Sealed BOV
Dejon Tool
NA
159.90
-
159.90
-
Powder Coat Valve Cover
Arizona Powder
NA
34.05
-
34.05
-
*
A/T UPGRADE
Translab Shift Kit, Alto end clutch
AT DSM Member
Translab TL-175, Alto 059757
115.00
-
115.00
-
A/T Seal Kit7
MitsubishiParts.cc
MD997956
65.91
-
41.44
-

Pro Torque TC

Pro Torque

PTC-CT10SS

395.00

-
395
-

Crank Bushing

Mark Mitsubishi

MD756767

8.21

-
6.16
-

1G HEAD CONVERSION

Used 1G Head
DSM Trader
NA
125.00
-
125.00
-
Used 1G Intake manifold
DSM Trader
NA
55.00
-
55.00
-
Used 1G Coil Pack
DSM Trader
NA
50.00
-
50.00
-
Used 1G Turbo TB
DSM Trader
NA
50.00
-
50.00
-
Big Water Pipe
Conicelli Mitsu
MD171059
49.53
-
37.15
-
U Shaped Water Pipe
Conicelli Mitsu
MD117764
14.18
-
10.64
-
Water Neck Assy.Upper
Conicelli Mitsu
MD190339
55.40
-
41.55
-
Water Neck Assy. Lower
Conicelli Mitsu
MD130457
19.30
-
14.48
-
95 Cam angle sensor5
Conicelli Mitsu
MD300102
62.77
-
47.08
-
Exhaust Head Stud
Conicelli Mitsu
MS401428
1.17
-
0.88
-
Intake Head Studs (2)
Conicelli Mitsu
MF402585
0.90
-
0.68
-
Weld, grind, drill, tap cam sensor
Frontier
NA
75.00
-
75.00
-
Weld plate for MAS on intake
Frontier
NA
75.00
-
75.00
-
Threaded Nipple
Conicelli Mitsu
??
??
-
5.00
(approx)
WHILE YOU'RE AT IT
Front Motor Mount
Conicelli Mitsu
MB844275
36.83
-
27.62
-
Rear Motor Mount
Conicelli Mitsu
MB911266
43.23
-
32.42
-
Left (Dr) Motor Mount
Conicelli Mitsu
MB911270
54.32
-
40.74
-
Right (Pax) Motor Mount
Conicelli Mitsu
MD911274
47.77
-
35.83
-
Fuel Filter
Conicelli Mitsu
MB868457
22.92
-
17.19
-
PCV Valve
Conicelli Mitsu
MD024719
5.35
-
4.01
-
Thermostat
Conicelli Mitsu
MD997607
17.28
-
12.96
-
P/S Oil Bracket
Conicelli Mitsu
MB288989
10.12
-
7.59
-
Fuel Tank Cap
Conicelli Mitsu
MB504900
6.47
-
4.85
-
Larson Hose Kit, 1G Silver
RRE
Larson Hose
42.00
-
42.00
-
New Battery
Sears
PS22830326
56.99
-
56.99
-
Injector O-rings
Bell Rd Mitsu
MD087060
2.57
-
10.28
-
NGK Spark Plugs (4)
BAP
1128
4.29
-
17.16
-

Totals:
About Prices:
List price is the vendor's list price or quoted price without discounts.
Total cost is the cost of an item that is not optional to perform the conversion. Total cost is the cost I paid including any discounts, but does not include tax or shipping.
Optional costs: This is the price I paid for items including any discounts. Optional costs are for things that someone else may or may not have to buy - like tools or optional parts. Tax and shipping not included.
Recoverable Costs are expenses that are recoverable, usually by selling parts or pieces when I am done or not using.
1This was dumb, I ordered the kit for a 1G head, I already had a 4G64 head gasket. I'll still make use of it on my next project though. Kit includes valve seals, cam seals, and most of your gaskets (intake, exhaust, head, oil line, etc).
2I should have supplied this and other Mitsu parts for them and saved over 25%.
3EVO 7cm O2 housing chosen to replace stock O2 housing.
4Yes I know you can get these cheaper.
5Broken part replacement. Doh!
7Includes Filter and Gasket
97-99 Eclipse Conversion
Detailed Plan:
Purchase 97-99 front & rear bumpers, headlights, fog lights, Eclipse turbo spoiler, Altezza tail lights. Customize Altezza center piece to function as reverse lights, have reverse light holes in rear bumper filled in. Have paint shop fill holes left by Talon spoiler and paint both bumpers.
Journal
Month of July: Purchased left headlight and right headlight separately on Ebay. Purchased front bumper from Auto Fit in Phoenix through AZGarage. Ordered spoiler pre-painted from SpoilerDepot.com. Purchased rear bumper from guy on DSMTrader.com. Ordered reverse lights from MitsubishiParts.cc. Ordered Altezza lights from vendor on Ebay.
| | | | | |
| --- | --- | --- | --- | --- |
| 97-99 Driver Headlight | Ebay | | 75.00 | |
| 97-99 Pax Headlight | Ebay | | 80.00 | |
| 97-99 Front Bumper. | AZGarage | | 187.00 | |
| 97-99 Rear Bumper | DSM Trader | | 100.00 | |
| Eclipse Turbo Spoiler, Painted | Spoiler Depot.com | | 253.00 | |
| Reverse Headlights (2) | Conicelli Mitsubishi | MR296099 | 31.80 | |
| Altezza Taillights | Ebay Vendor | | 129.00 | |
| Fog Light Covers | MitsubishiParts.cc | | | |
| | | | | |
| | | | | |
Pictures!
Click the picture to see the full size picture. Click 'Back' to return.
Before.
This is the last time this engine will be in one piece.
Almost everything is off of it, off to the machine shop we go.
The starting point. Bone Stock engine.
Got the engine out.
Close-up of firewall.
View of A/T tranny without engine
Old 4G63 Side View
Old 4G63 Front View
A/T Tranny, side view
A/T Tranny, oil pan removed.
1G vs. 2G Intake Manifold Comparison
Ported and Polished Exhaust Manifold Inlet. Thanks Mike Hanna!
If you want him to port yours just like this, send him an email: mikedaddyh@yahoo.com.
Ported Exhaust Manifold Outlet - Porting by Mike Hanna
Ported and Polished O2 Housing Inlet - Porting by Mike Hanna
Ported and Polished O2 Housing Oulet - Porting by Mike Hanna
This is the 4G63 crank hole. Notice how deep it is compared to the one below.
This is the 4G64 crank hole. Not quite as deep.
This is the stock 95 Tsi AWD A/T torque converter after it has been machined to fit the 4G64 crank.
If you look closely you can see why the holes on the block had to be plugged. The 1G (and 2G) head don't cover these holes!
This is the completed long block, ready to go!
TC after I started it up and it started leaking. You can see the shaft protruding. go!
Comparison of 1G and 2G throttle bodies. 1G is much larger (60cm vs 52cm I believe).
As of Jan 27, this page is still under continuous improvement and update. Check back as the project proceeds and I spend more time on this page. Any questions can be emailed to ryan.denke@cox.net.
---
Last updated Nov 27, 2006


Suggestions? Comments? Complaints? Sarcastic Remarks? Wanna help? Email me!
Copyright 1998, 1999, 2000, 2001, 2002, 2003 Ryan Denke - All Rights Reserved